Health Coaches Come Together: For Health Coaches
Dear Fellow Health and Wellness Coaches,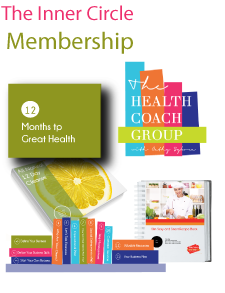 I would like to introduce you to The Health Coach Group and its "Inner Circle" Membership for Health Coaches, created by The Health Coach Group. The full coaching programs included in the membership are available to health and wellness coaches worldwide, making this a unique opportunity to use these exclusive coaching programs with your clients. Before I go into the benefits of this membership, Id like to give you some statistics about coaching and the internet.
The coaching industry has radically changed over the past decade and even in the past year. Ten years ago people were still looking for goods and services in the yellow pages. A print column ad could set you back $50 - $80 a month but was well worth the investment. Today, 96% of the U.S. population is now using the Internet and search engines to find everything from cars, jobs, schools, books and even coaches. The yellow pages are even online. The Internet revolution has caused a paradigm shift in the way we communicate, interact and do business.
Today, there are 2.4 Billion Internet users worldwide and this number is growing daily. There are 1.1 billion smartphone users accessing the Internet right from the palm of their hands. As a business owner, being online is essential to your practice. With 634 million websites competing, the question is not do you need a website, the question is, are you marketing and leveraging your website effectively?
The beauty of having an effective website is that it offers infinite opportunities for your practice 24/7. With 210 billion dollars being spent online each year, you can now make money in your sleep. With the invent of online appointment scheduling, e-Newsletters, online payment processing, and robust online resources, your clients have greater expectations than ever. The good news for practice owners is, meeting these expectations increases your bottom line and streamlines your marketing and administration costs. For instance, allowing your clients to schedule themselves online reduces your admin costs and also improves customer retention by 9.4%.
Learn how to increase your income, thanks to the Internet!  If you're not effectively using online marketing you could be missing out on serving clients and creating valuable income opportunities for yourself.
I have partnered with The Health Coach Group to introduce you to the Inner Circle Membership for Health Coaches. It is a perfect solution to a dilemma of creating programs that are thorough and covers every aspect of what you have learned from your health and wellness education. Wrapped with beautiful colors and lay-out, you have perfect programs to use with your clients. You can insert your own logo, add your contact information and graphics.
Cathy Sykora, CEO of The Health Coach Group knows the struggles health coaches bump into while getting their coaching practices up and running and found a way where you do not have to re-create the wheel. With the "Inner Circle" membership and other programs you can jump right into offering a well-prepared coaching program to clients.
The following programs and features are  included in the "Inner Circle" membership. Many are also available as a stand alone, individual coaching program:
(Customizable with your own logo and contact information)
The 3-6-9-12 Month Program
12 Day Detox
12 Day Christian Detox
28 day Slim Sexy and Smart
28 Day Spiritual Cleanse
Supplemental Modules: Nutrition, Exercise, Meditation, Detox Bonus Recipes
Article Library for newsletters and blogs
How To For Health Coaches
A Collaborative Recipe Book to hand out to your clients
Specialization Modules Developed for Health Coaching Focus
Special Affiliate Opportunities
First chance at new products
Access to all products developed before and during your membership
Membership to a Mastermind Group
Membership for your clients to an accountability group
Access to new products and programs that will help make you more money at the same time offering value to clients
Blogging Groups for accountability, learning and support.
To check out the great products from The Health Coach Group Click Here.
The Inner Circle is now also available on a monthly or quarterly basis.
If you have any questions, please feel free to call me at (417) 893-0501, email me at Missy@MyMomentumFitness.com